We are excited to announce that a brand new mode called Challange is on its way and it will be available soon! This week, we want to give you many details as we can until the wait is over.
Challenge Yourself
As the title says, this new mode will push your limits and skills. Be a new player or an experienced one, Challange Mode will be fun to play, hard to master and of course rewarding in the end. Let's talk about the basic rules first.
Challenge Mode is basically a survival mode. You will try to stand and stay alive as rows come down and do your best to collect stars. Collecting stars will be same as normal levels but this time, you have to collect much much more. With each star you collect, you will get special rewards and for a week-long, different prices will be waiting for you as you collect enough number of stars.
There will be two different rewards; daily and weekly. Daily rewards will be easy to obtain and you will able to play each day once. The real challenge will begin with the weekly rewards. Take a look at the screenshot below first.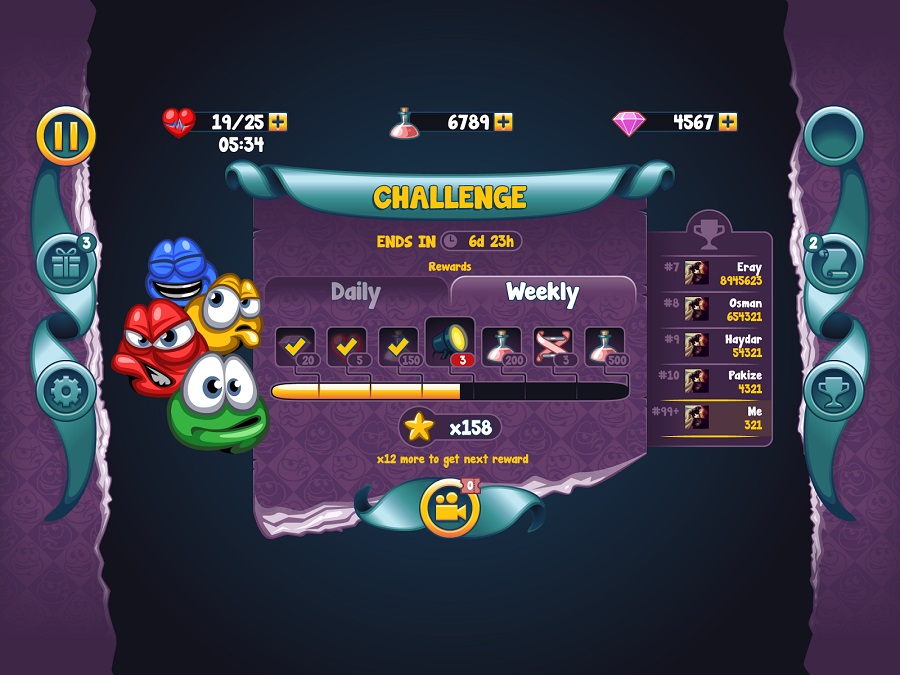 As you collect stars, the bar will fill up and new rewards will be unlocked. Each reward can be collected only once but witch each new week, you can achieve those rewards again. The important part of this mode is its design. This time, there will be no limit. There will always be a new row to clear and it will continue as you stay alive. The more you resist to fail, the more stars you will collect. Don't expect to see an easy difficulty tho. This will be tough so get ready and upgrade your characters while there is still time.
Who Is The Best
There will be 3 different Challange levels. These levels will be chosen for players among village, forest or ruins, depending on their level. So let's say you are in the Village 12. The challenge level will in Village. But when you reach Forest 20, you will start challenging in the Forest. So it is all based on the progress you reach. But no worries, every rule including rewards will be same at all three challenge levels.
Of course, there can't be a challenge mode without a leaderboard. So similar to the leaderboard in the game, there will be a new one for challenge levels only. This will be a good time you to show how much you can survive and how good your skills are. After the release of this update, we are planning to reward top players in the challenge mode so, get ready for the great news. 🙂
So when can you play this? Sooner than you think. Right now we are working on upcoming patches which will include new tutorials and other important changes which announced a couple of weeks ago. After that update is ready to serve in January, we will start working on this content to get it done. So stay tuned for upcoming news.